Business Intelligence is a term that includes reporting systems and what we call a data warehouse. These systems work together to gather and structure important data. Which information is extracted depends on the industry, department and what level that will use the reports.
Very briefly explained, Business Intelligence revolves around collecting and visualizing data in an interface available to the user. The typical users of this information are decision makers, but it is possible to create solutions for all departments that record data. There is a lot of important information buried in various data sources, ranging from financial numbers to sensor data. When this data is made visible, it is easier for department managers and employees to get a better picture of the state of the company, which in turn will give them a better basis for decision-making.
"There is a lot of important information buried in the data sources of businesses worldwide"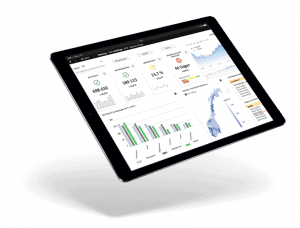 Business intelligence dashbord in InFront – Profitbase
There are countless variations of Business Intelligence. All companies are different and have different needs when it comes to what data that is relevant. In addition, different industries use different KPIs to measure the company's efficiency. For example, a sales department will want to know which products they sell the most of, or see a graph of their win rate, customer satisfaction or leads. A user in the finance department has different needs and will among other things be concerned with information about income, costs and trends.
"According to Forbes, 90 percent of the world's data has been generated over the past year.
Research also shows that we only use 1 percent of this data effectively. "
Data retrieval
A data warehouse is created to retrieve and structure the data from the various sources. First the customer defines which data they want to use in the solution, then the data gets "cleansed" to avoid errors in the reports. A commonly used term in this context is extract, transform, load (ETL). A data warehouse is designed differently than a standard database. In a regular database, there is a need for large volume, in a data warehouse there is a greater need for the data to be merged and combined over time. With ever-faster technology on the market, users expected to also retrieve data from a data warehouse quickly. The disadvantage of a data warehouse is that it cannot handle unstructured and complex data volumes – despite this, it is an important tool in Business Intelligence.
There is no doubt that Business Intelligence helps users make better and more profitable decisions. However, this is not the only advantage of using this type of technology. With a solution that gives users direct access to relevant data, the information flows better and becomes more visible. In short: Reporting in the company becomes more efficient.
The future of BI
In recent years, many new technologies have entered this field. Big data, machine learning and artificial intelligence are all relevant terms you hear more often. Users' needs are evolving and becoming more complex. This requires new methods. For example, during the next years we will see an increasing need to analyze larger amounts of data, as well as a need for even more in-depth forecasts. Either way, developments in the field are at a rapid pace.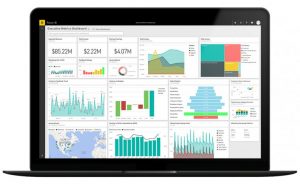 Business Intelligence dashbord developed in Power BI
Business intelligence simplifies users' everyday lives in many ways. Not only are warning signs made more obvious, but good Business Intelligence software can also be a tool for setting a goal, and then pursuing it. A good idea before implementing a BI solution is get clear on what data that is the most important  and where the need for deeper insight is greatest. In order to develop a good BI solution, one needs both the users' own experiences and the BI consultant's expertise.