Business Intelligence (BI) has undergone tremendous advancements over the past decade. We have seen spreadsheets take a backseat as businesses move towards data visualization and advanced analytics. BI has now become a household name in the business world attracting interest owing to its impressive capabilities. But as they say, the best is yet to come. Hence begging the question, what lies ahead for the future of business intelligence?
Let's have a look at some of the Business Intelligence trends we expect to see in the future.
Data Quality and the Future of Business Intelligence
Regarding challenges currently facing Business Intelligence, data quality reigns supreme. In fact, according to Gartner, an estimated $15 million is lost annually per company due to poor data, prompting the need for better accuracy and data quality even as BI evolves. Companies will have to prioritize data quality as it affects everything from decision making to understanding customer needs. After all, if the data you're working with is untrustworthy, any observations made from it will consequentially be unreliable. Systems should find a way to consolidate data from different applications then compile it without affecting the validity of original data and one way of achieving this is Data Quality Management (DQM) policies or techniques. It involves data acquisition and processing, effective data distribution, and managing oversight data.
Advanced Integration
A challenge most businesses currently face is the consolidation of data from various programs. Business Intelligence is expected to counter this problem by ensuring data analysis is possible from the existing systems. What does this mean? A user can perform various tasks like making data changes without necessarily having to leave the site. Not only will the BI software offer third-party functionality from its tool but also allow the implementation of BI capabilities in other applications. For example, an employee will be able to update CRM records like Salesforce or get notified of idle servers based on the availed data. The benefits of such an integration can't simply be ignored. Not only does it save on time but also allows rapid data consolidation and access ultimately leading to streamlining workflows. Vendors are already working towards integrated BI systems with the help of Application Programming Interfaces (API). Their goal is simply to ensure the user reacts to data without necessarily leaving the BI software.
Machine learning
In the coming years, Business Intelligence is projected to run on intuition. What this means is that depending on given parameters and identification software, BI tools will provide insights and predictions, ergo machine learning. Companies are now more than ever looking into machine learning and its capabilities. This is fueled by the need to move from static, passive reports to real-time analytics and alerts. Such a system eliminates a majority of the "what-ifs" by first examining the trends and patterns before offering educated guesses.
Business analytics of the future will be focused on two aspects of machine learning, namely predictive and prescriptive analysis;
Predictive analysis – involves forecasting future probabilities by using current data then offering alternative scenarios and risk assessment.
Prescriptive analysis – it goes a step further into the future by offering steps to achieve a set business goal. This mode of analysis makes use of graphs, neural networks, simulation, and complex event processing.
Both business analytics modes will prove helpful in analyzing future decisions ultimately aiding in decision making and business optimization. For example, a Business Intelligence tool will provide the most suitable answer after carefully and rapidly analyzing the factors in a question.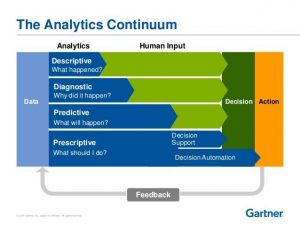 Data Proactivity
Simply, data brought to you. Gone will be the days of having to scan loads of irrelevant data before finding what you need. The future will see companies adopting systems that will enable relevant data to find you, not vice versa. Data proactivity is a blend of third-party integration and Artificial Intelligence (AI). These two will work together to provide solutions through augmented analytics, hence the question, what is augmented analytics? It's a set of clear steps to be followed to provide actionable answers meaning you don't have to engage the system for it to answer. Either way, it will do so. Data proactivity, especially through augmented analytics, should be a serious consideration for any business that desires to survive the future.
Increased Network Advancements
Advancements in Business Intelligence necessitate the evolution of network structures. The future will see the expansion of network infrastructure to accommodate large amounts of data as well as allow seamless information flow in BI systems. Such changes are already evident in the current use of cloud-based services. Business is shifting from using local servers and storage by acquiring the services of third-party companies to manage their data analysis and Business Intelligence.
Solid network architecture is the foundation of any system, BI included. Engineers are looking for ways to ensure a perfect blend between the hardware and software aspects of a business system network. This will ensure that future hardware architecture effortlessly handles the increasing volumes of data as well as enable cohesive handling of multiple projects to form the overall system.
Self-Service Business Intelligence
Business Intelligence was traditionally viewed as a mystery familiar to only a few IT experts. Anyone who wanted to access data or gather intelligence required seeking help from an expert. Luckily, this is now a thing of the past. Companies with the help of software vendors are striving to move away from employee dependence to IT departments hence, self-service BI. Users will be able to perform tasks without the aid of an IT expert.
Increased Collaboration
Currently, the business intelligence tools in use are operated independently and not connected to a broader network. However, trends predict future businesses will adopt a collaborative approach – More users and better system interconnectivity. This change has already gained speed with companies expanding the current BI platforms and using machine learning systems with better collaboration.
Conclusion
No one knows with total certainty what awaits Business Intelligence. However, with the current trends, we can't help but say, the future looks bright. What do you think is the future of business Intelligence? Leave us a comment!